The rocks: composition
On the left hand side of the road going upwards the rocks are well exposed. They are grey-brown-ochre-buff, relatively hard, consist largely of silicate minerals and are equigranular with medium-fine sized grains. Grains have relatively regular crystal shapes.

View up the road which is our route (click for a larger image)
Uplift of the rocks of the Caroux Massif
Subsequent uplift has brought the rocks back to the surface and lifted them to above the surrounding land. The rocks now form a large domed shaped structure which is the Montagne Noire of which the Caroux Massif is the south eastern corner. The origin of this structure is discussed in the Geology section. We are now in the outer skin of the structure.
The formation of the Gorges d'Héric
The gorge we are moving into was formed by the fast moving river, the Ruisseau d'Héric. As the rocks were progressively uplifted, the river cut relatively deeper into the rock layers.
The well exposed rock at location 1 showing the upright orientation
Structures
Cleaved surfaces reveal a steeply dipping lineation which a close look reveals to be minor folds 1 cm x 4 cm, evidence of a foliation (an orientation of any elongated or flattened crystals in a plane perpendicular to the forces acting on a rock) the orientation of which has a strike (horizontal component) of E78 degrees N and a dip (vertical component) of 80 degrees to the south.
Metamorphic change
The rock here is a low grade metamorphic psammite.. Medium sandstones became buried by a km or two and subjected to fairly high pressures and temperatures causing a modest (in this case) change in texture (this change to the texture and balance of minerals in rocks due to the influence of the long term high pressures and temperatures deep underground is called metamorphism).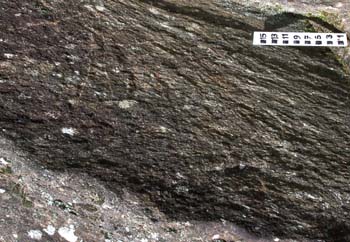 Close up of the texture of the schist. The microfolds are evident, but are they regular enough to be called crenulations?
Light coloured veins in the rock
There are veins 2 - 10 cm of a much coarser mottled white and grey rock with well formed (euhedral) crystals up to 2-3 cm across. These minerals are transparent grey crystalline quartz (the silica rich mineral of which sand is usually composed (50%), white feldspar (a crystalline mineral of mainly silica, oxygen, aluminium and hydrogen.(35%), Biotite, a dark blackish brown form of mica(10%). This rock is a particularly coarse form of granite known as pegmatite. These veins were created by the injection of molten magma into cracks which may have formed as a result of a stretching of the brittle metamorphic rocks.