---
Route 4
CONTINENTAL AEOLIAN DUNES (QUATAR)
On the continental sabkha aeolian processes are more evident. Aeolian dunes of quartz sand locally dominate; there are carbonate sands as well, blown in from the coast.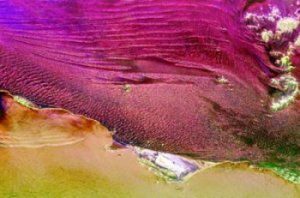 Source http://www.soton.ac.uk/~imw/sabkha.htm
Radar image of sand dunes in the Namib desert
Anhydrites that formed earlier under coastal sabkha conditions hydrates to gypsum, or gypsum dehydrates to anhydrite.
Additional calcium sulfate precipitates from inland-derived groundwaters. Halite precipitates in wind deflated areas.
---
This page was created by Pamela Williams
Last Modified:18/06/02